Join us at Barbara Bush Library Saturday, October 5, 2019 – 2PM.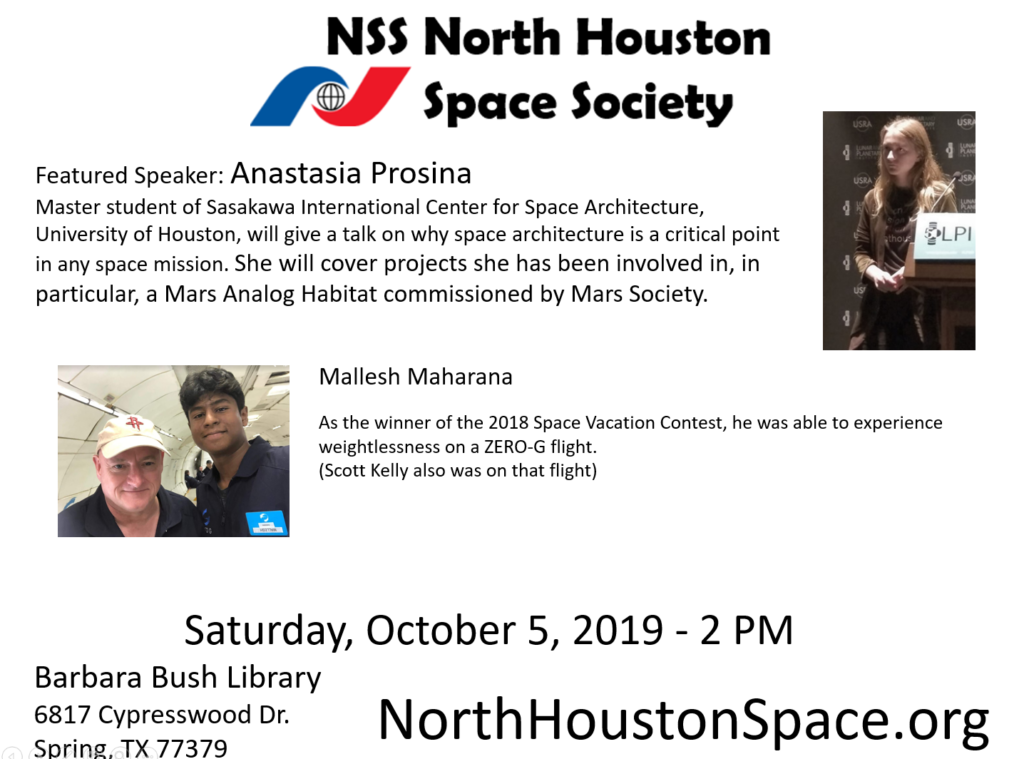 Monthly NSS North Houston Space Society (http://NorthHoustonSpace.org) meeting. Come learn about Space Architecture, the NASA High School Aerospace Scholar's program, and what it is like to experience weightlessness. Hear about the latest news in space and discuss with other interested people.
Featured Speaker: Anastasia Prosina
Master student of Sasakawa International Center for Space Architecture, University of Houston, will give a talk on why space architecture is a critical point in any space mission. She will cover projects she has been involved in, in particular, a Mars Analog Habitat commissioned by Mars Society.
Also speaking: Mallesh Maharana
As the winner of the 2018 Space Vacation Contest, he was able to experience weightlessness on a ZERO-G flight. (Scott Kelly also was on that flight)
Notice for all High School Juniors. NASA High School Aerospace Scholar's program – Applications due October 23, 2019 More info at: https://nas.okstate.edu/has/
Meetings open to all age groups and interest levels. Come explore with us the potential that developing and exploring space has to better life here on earth and to open up new frontiers creating new perspectives that can help enrich the human experience.
The Vision of NSS is people living and working in thriving communities beyond the Earth, and the use of the vast resources of space for the dramatic betterment of humanity.
The Mission of NSS is to promote social, economic, technological, and political change in order to expand civilization beyond Earth, to settle space and to use the resulting resources to build a hopeful and prosperous future for humanity. Accordingly, we support steps toward this goal, including human spaceflight, commercial space development, space exploration, space applications, space resource utilization, robotic precursors, defense against asteroids, relevant science, and space settlement oriented education.
Website: http://NorthHoustonSpace.org
MeetUp: https://www.meetup.com/Future-North-Houston-National-Space-Society-Chapter/
FaceBook: https://www.facebook.com/NssNorthHoustonSpaceSociety/