Join us at Barbara Bush Library Saturday, September 7, 2019 – 2PM. (Note that our meeting times have change.)
Our featured speaker is Carl Carruthers, Jr., Chief Scientist at NanoRacks LLC.
Dr. Carruthers is the Chief Scientist for the commercial space services provider NanoRacks. In this multifaceted role, he works directly with client researchers to assist in designing their microgravity projects, and acts as a liaison between principal investigators and NanoRacks technical staff over the course of their projects. Dr. Carruthers also provides inputs on NanoRacks science hardware design and meeting the future needs of microgravity researchers.
Dr. Carruthers received his B.S. in Chemistry at Florida Atlantic University and M.S. in Biochemistry and BioPhysics at Texas A&M University. As a researcher in the lab of Dr. John Baxter at The Houston Methodist Research Institute, he studied the structure and function of nuclear receptors and their co-regulators. During this time he also completed his Ph.D. in Biochemistry under Dr. Jan-Ake Gustafsson at The University of Houston's Center for Nuclear Receptors and Cell Signaling. Dr. Carruthers has been the PI of multiple microgravity experiments on reduced gravity aircraft, the Space Shuttle, and the International Space Station.
When not chasing rockets, Dr. Carruthers can be found flying, backpacking, mountain climbing, or discovering other ways to escape gravity.
LinkedIn: https://www.linkedin.com/in/carl-carruthers-jr/
Twitter: https://twitter.com/payloadwrangler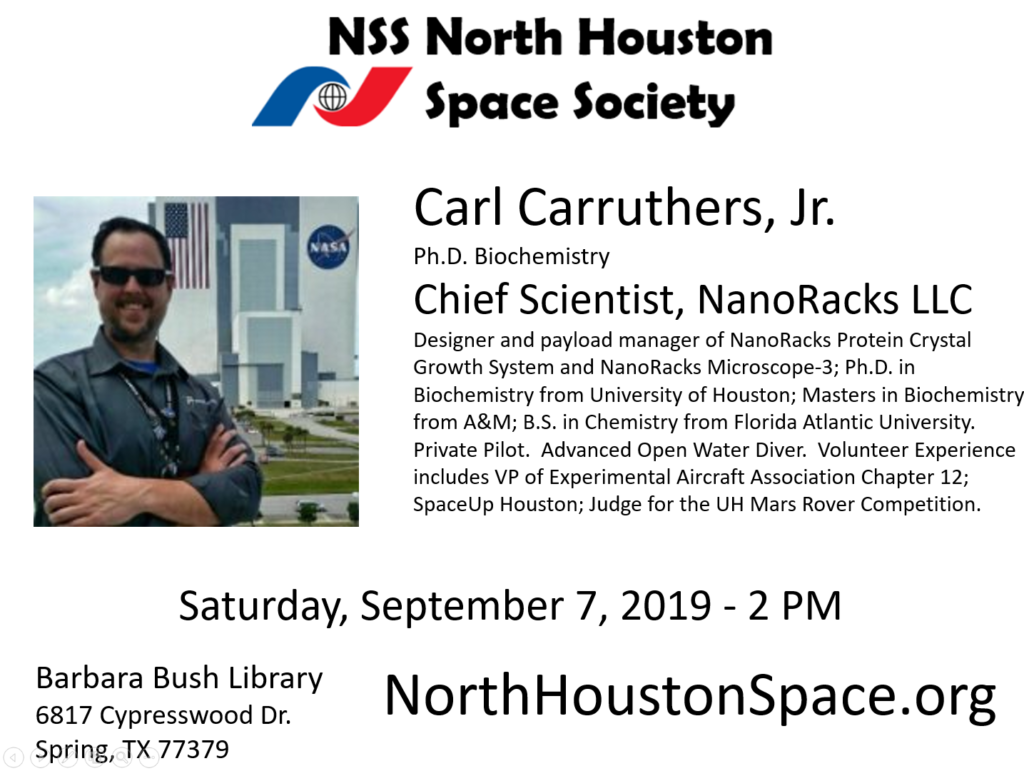 Website: http://NorthHoustonSpace.org
MeetUp: https://www.meetup.com/Future-North-Houston-National-Space-Society-Chapter/
FaceBook: https://www.facebook.com/NssNorthHoustonSpaceSociety/