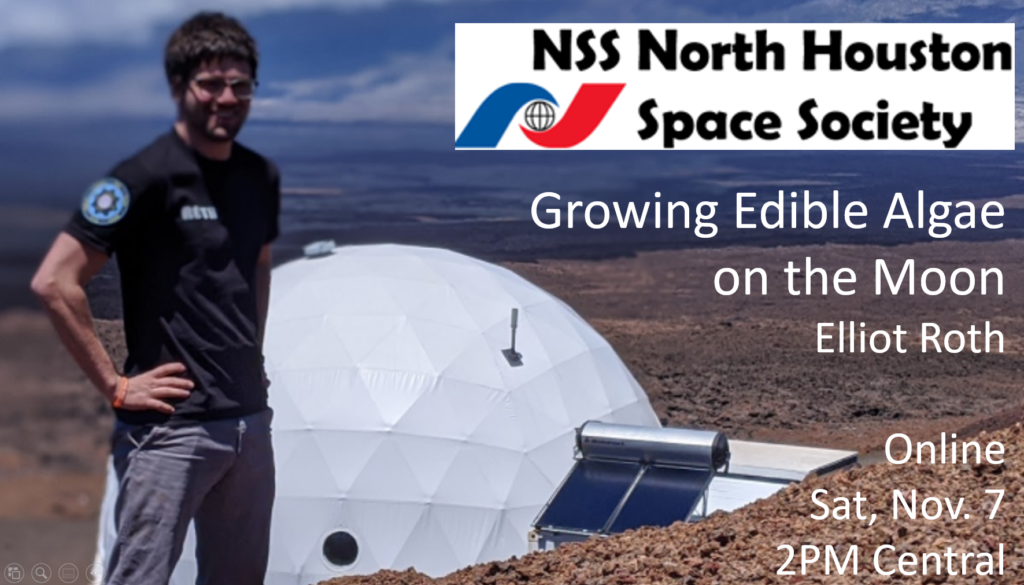 Join us for our Monthly NSS North Houston Space Society (http://NorthHoustonSpace.org) meeting. Come join others who are excited about exploring the cosmos, learning how to use the resources of space to improve human life, and who want to go and spread humanity to the rest of the universe.
The meeting will be on Saturday, November 7, 2020 at 2PM (CDT) ONLINE Via ZOOM: https://us02web.zoom.us/j/85216600533
Tentative Agenda:
2:00 PM – Opening Remarks – Nathan Price
2:10 PM – Space Communicator Speech
2:20 PM – Recent Space News – Greg Stanley
2:45 PM – Growing Edible Algae on the Moon – Elliot Roth
3:30 PM – Q&A
3:45 PM -Share your personal space experiences since the last meeting. Rocket Launches, Other Meetings, Research, etc.
4:00 PM – End of Meeting
About the Speaker Elliot Roth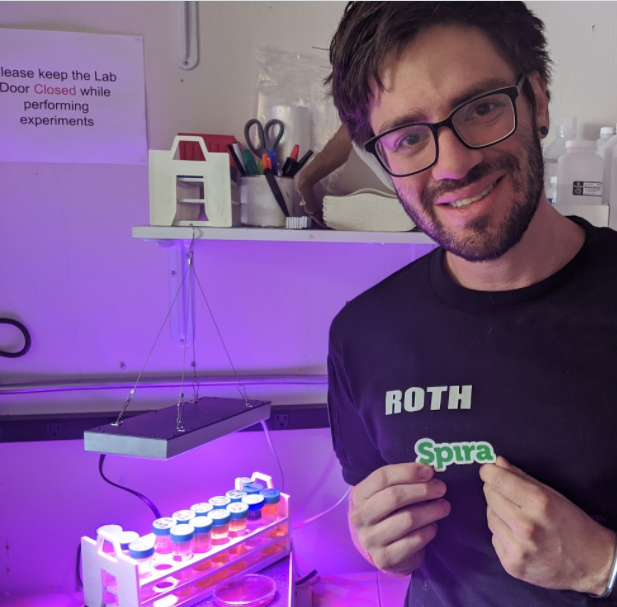 Elliot is the founder of Spira, a company that creates better-tasting spirulina as an ingredient for food companies. Spira has received awards from RebelBio, Lighthouse Labs, the World Food Programme, Halcyon Incubator, BeGreen, CommBeBiz, and the National Science Foundation, and has presented at SXSW, Synbiobeta and Thought for Food. Elliot is a Kairos Fellow, a Seasteading Ambassador, and Future Founders Fellow. Before Spira, Elliot graduated with a degree in biomedical engineering; he trained at the Stanford d.School as a University Innovation Fellow, and has 10 years of synthetic biology experience and worked for 5 years as a product consultant. He previously founded 6 failed startups and 2 successful nonprofits including an open community science lab. He is incredibly motivated to solve physiological needs using simple biological design.
About This Project
One of the biggest challenges for off-world life is the production of food. Astronauts need nutritionally dense, fast-growing and resource-efficient food that can be grown in a tiny amount of space. This experiment aims to grow spirulina algae to supply a nutritional supplement to the crew. Previous NASA experiments only tested dried spirulina algae. This experiment will test growing conditions and sentiments around fresh spirulina algae to enable nutrition for life in space.
What is the context of this research?
I was selected as a NASA analog astronaut at HI-SEAS to simulate living on the moon. These missions range from a few weeks to months, and test how people might live off-planet in a socially-isolated environment. The enclosed isolated space at HI-SEAS on the side of a volcano in Hawaii, provides a fertile test-bed to run experiments that enable life on other planets and give researchers a sense of what is required to make humanity thrive in those extreme environments.
I'm a giant space geek. Ever since I was a kid I launched rockets and dreamed of finding ways to explore the solar system. I started researching algae as a means of creating access to nutrition anywhere effortlessly, and was selected for this mission due to my experience.
What is the significance of this project?
Algae has the ability to grow quickly on just sunlight, CO2, water and salt while treating wastewater, bioremediating CO2, providing nutrition, and absorbing harmful radiation. This is essential in space when astronauts are resource limited. Previous research has been done by NASA and ESA to investigate the use of algae for closed life-support systems. That research has proceeded slowly as many astronauts did not like the taste of dried algae as a food source.
Fresh algae has no taste and can be grown quickly on-site. This experiment is meant to compare dried algae to fresh and measure the sentiments of fellow astronauts to this new food source while tracking metrics that relate to the growing, harvesting and consuming of freshly grown algae.
About the Meeting
Meetings are open to all age groups and interest levels. Come explore with us the potential that developing and exploring space has to better life here on earth and to open up new frontiers creating new perspectives that can help enrich the human experience.
The Vision of NSS is people living and working in thriving communities beyond the Earth, and the use of the vast resources of space for the dramatic betterment of humanity.
The Mission of NSS is to promote social, economic, technological, and political change in order to expand civilization beyond Earth, to settle space and to use the resulting resources to build a hopeful and prosperous future for humanity. Accordingly, we support steps toward this goal, including human spaceflight, commercial space development, space exploration, space applications, space resource utilization, robotic precursors, defense against asteroids, relevant science, and space settlement oriented education.
Website: http://NorthHoustonSpace.org
MeetUp: https://www.meetup.com/Future-North-Houston-National-Space-Society-Chapter/
FaceBook: https://www.facebook.com/NssNorthHoustonSpaceSociety/