Join us for our Monthly NSS North Houston Space Society (http://NorthHoustonSpace.org) meeting. Come join others who are excited about exploring the cosmos, learning how to use the resources of space to improve human life, and who want to go and spread humanity to the rest of the universe.
Our November 2, 2018 meeting will be at Barbara Bush Library (6817 Cypresswood Dr.; Spring, TX 77379) at 2PM.
We will have Tom Rowan come speak to us. He designed the actuator for the radar disc on the Lunar Lander used on Apollo 11 which landed Buzz Aldrin and Neil Armstrong on the moon on July 24, 1969. He also invented the hermetically sealed DC motors that were used by the NASA Viking Lander on Mars in 1976. And he has over 50 years of engineering experience.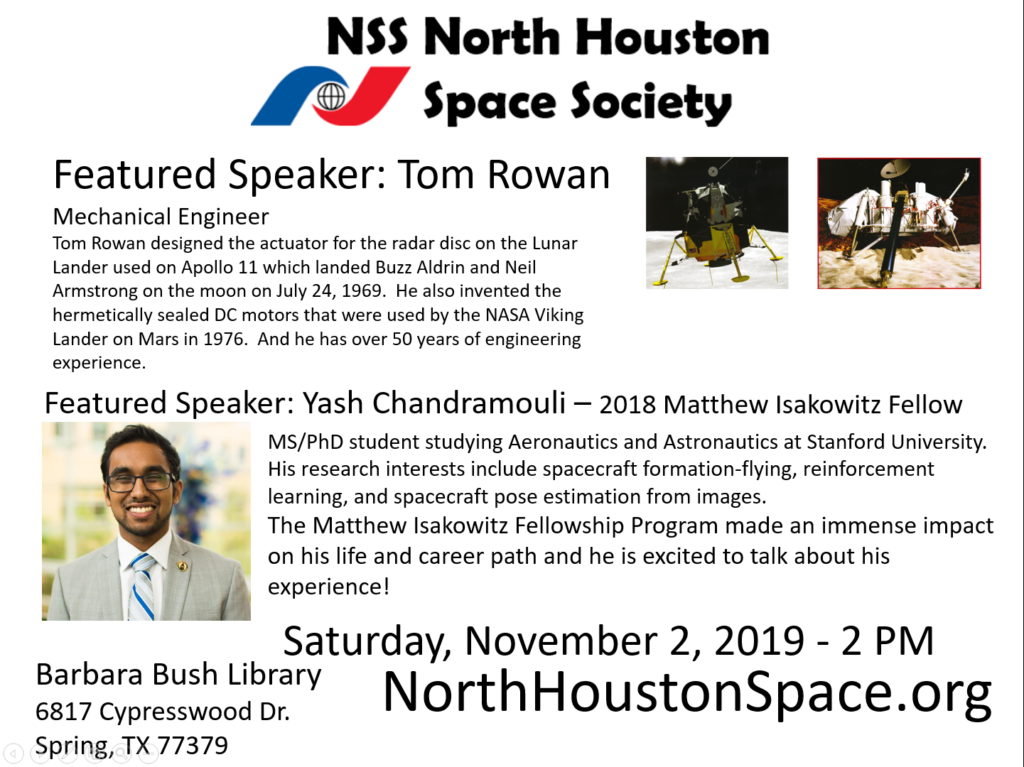 And we will also have Yash Chandramouli come talk to us about the Matthew Isakowitz Fellowship. He is a MS/PhD student studying Aeronautics and Astronautics at Stanford University. His research interests include spacecraft formation-flying, reinforcement learning, and spacecraft pose estimation from images.
The Matthew Isakowitz Fellowship Program made an immense impact on his life and career path and he is excited to talk about his experience!
If you are a college junior, college senior, or graduate student who intends to pursue a full-time career in the commercial spaceflight industry, then you should apply before the December 2, 2019 deadline: https://www.matthewisakowitzfellowship.org/apply
Meetings open to all age groups and interest levels. Come explore with us the potential that developing and exploring space has to better life here on earth and to open up new frontiers creating new perspectives that can help enrich the human experience.
The Vision of NSS is people living and working in thriving communities beyond the Earth, and the use of the vast resources of space for the dramatic betterment of humanity.
The Mission of NSS is to promote social, economic, technological, and political change in order to expand civilization beyond Earth, to settle space and to use the resulting resources to build a hopeful and prosperous future for humanity. Accordingly, we support steps toward this goal, including human spaceflight, commercial space development, space exploration, space applications, space resource utilization, robotic precursors, defense against asteroids, relevant science, and space settlement oriented education.
Website: http://NorthHoustonSpace.org
MeetUp: https://www.meetup.com/Future-North-Houston-National-Space-Society-Chapter/
FaceBook: https://www.facebook.com/NssNorthHoustonSpaceSociety/