The March NSS North Houston Space Society meeting covered the Humans to Mars conference, several members shared their ZERO-G Experience® (two from this past weekend, and one from the first flight in 2004.  There was much discussion before and after the presentation about the Falcon Heavy Launch, Sabre Rocket engines, the idea of shooting a nanosat out of a tube, and much more.
The replay of the Falcon Heavy Launch was playing on a TV.

The Falcon Heavy Launch continues to make me believe that we are really on the cusp of opening up the rest of the solar system.  We have felt that we were on the cusp of this for the past 50 years.  But with the private development, it feels more real than ever before.
We had pizza.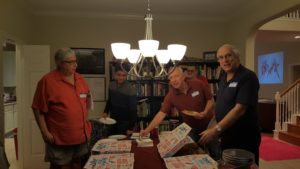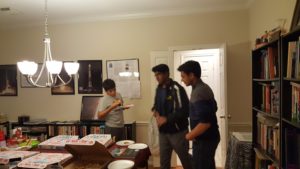 Gary Stephenson spoke about his visit to the first Humans to Mars summit back in 2013.  And we discussed what has changed since then.  And what we have to look forward to.
Gary Stephenson is a Lead Systems Engineer at United Technologies Aerospace Systems (UTAS) providing systems engineering support for EVA Mobility Unit (EMU) on ESOC program, spacesuit upgrades, new spacesuit product development, and other life support systems development (ECLSS) for NASA, NASA prime contractors, and commercial customers.  Duties include certification of spaceflight hardware, including airlock equipment such as UIAs, FPUs, and IEUs (umbilicals).
The Humans to Mars Summit (H2M) is the most comprehensive Mars exploration conference to address the major technical, scientific, and policy challenges of getting humans to Mars, as well as how such missions can have positive impacts on STEM education, American competitiveness and other important collateral issues. This conference serves as the authoritative and diverse Mars exploration event, involving leading technical and policy experts from NASA, industry, the science community, and academia. There is now a clear consensus among NASA, the aerospace industry and policymakers that a human mission to Mars by the 2030s is not just feasible, but achievable as well, once the proper measures are taken. H2M is an important part of Explore Mars's ongoing programming to help advance policy and excite the public regarding human Mars missions.
http://www.ExploreMars.org May 8-10, 2018 – George Washington University, Washington D.C.
Nathan & Christopher shared a little of their ZERO-G Experience® last weekend out of Houston Hobby.  ZERO-G will be returning to Houston on September 22, 2018.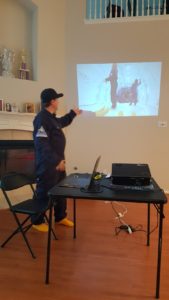 Our next meeting will be Saturday, April 7, 2018.  We are planning to talk about Asteroid mining.   Sign up on our meetup site if you can come:  https://www.meetup.com/Future-North-Houston-National-Space-Society-Chapter/
Here are a few key resources to check out ahead of the next meeting:
Database of asteroids:
Space Mining Companies:
http://www.PlanetaryResources.com
http://www.DeepSpaceIndustries.com