Join us for our Monthly NSS North Houston Space Society (http://NorthHoustonSpace.org) meeting. Connect with others who are excited about exploring the cosmos, learning how to use the resources of space to improve human life, and who want to go and spread humanity to the rest of the universe.
The meeting will be on Saturday, February 6, 2021 at 2PM (CDT) ONLINE Via ZOOM:  https://us02web.zoom.us/j/85216600533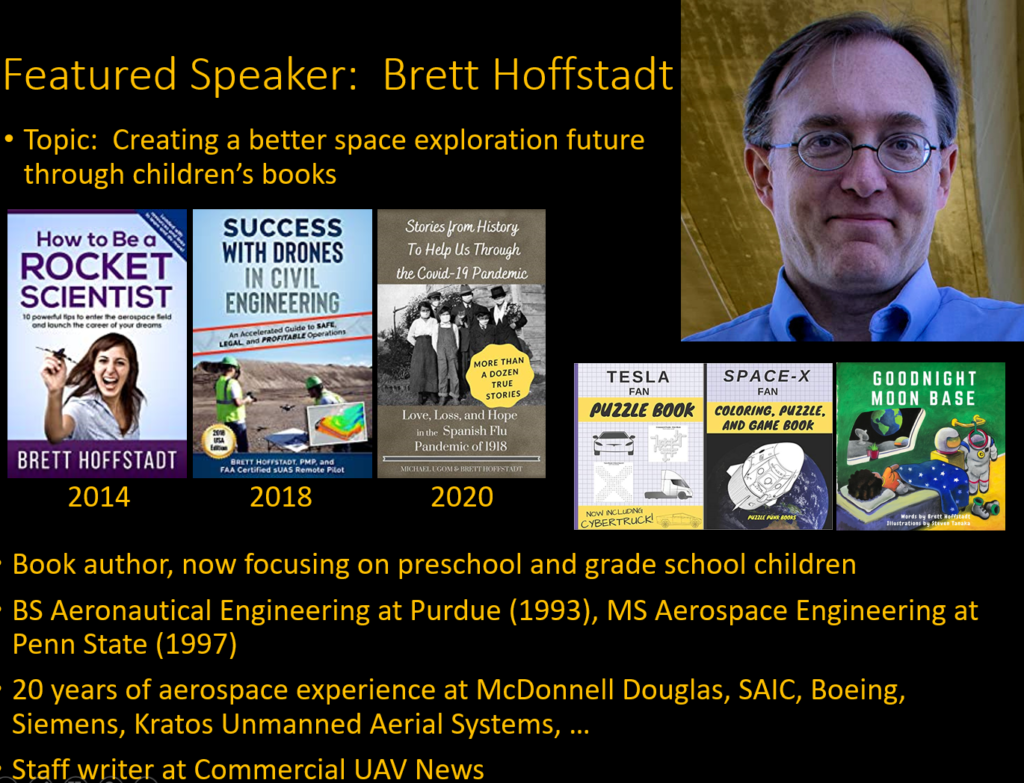 Tentative Agenda:
2:00 PM – Opening Remarks – Nathan Price
2:10 PM – Recent Space News – Greg Stanley
2:30 PM – Creating a better space exploration future through children's books – Brett Hoffstadt
3:30 PM – Q&A
3:45 PM -Share your personal space experiences since the last meeting. Rocket Launches, Other Meetings, Research, etc.
4:00 PM – End of Meeting
TOPIC: Creating a better space exploration future through children's books
PRESENTER: Brett Hoffstadt
Description:
A topic of continuous concern and discussion in the aerospace field is the workforce or "STEM" pipeline. How to attract, recruit, retain, and foster the people with potential to help us reach our fullest potential in the universe? (Can we fulfill our destiny as an interplanetary species?)
Throughout his 20+ year career in the aerospace and engineering industries, Brett Hoffstadt has contributed his time and energies to many efforts to bring people into the aerospace community through mentoring, educational outreach, and career development initiatives.
In 2014, he wrote and self-published his first book, How To Be a Rocket Scientist, which is geared toward high school-age students. More recently, he has concluded that the sooner we engage and inspire people to pursue a career in space exploration, the better off we will be as a species. Recall how the Apollo program and moon landing motivated an entire generation of kids to follow in the "footsteps" of the moon walkers by pursuing a career in aerospace fields.
He is now focused on publishing puzzle and activity books for preschool and grade school-age children on space exploration and related STEM themes. To reach children even earlier, he is currently producing a space-age spin-off of the classic book Goodnight Moon which is called Goodnight Moon Base. In this talk, Brett will share examples of his publications and invite discussion, suggestions, and feedback for how this strategy might promote space exploration efforts further.
The children's classic bedtime book "Goodnight Moon" is getting a space-age update. Let's inspire children to go TO the moon! Get a preview here:
About the Meeting
Meetings are open to all age groups and interest levels. Come explore with us the potential that developing and exploring space has to better life here on earth and to open up new frontiers creating new perspectives that can help enrich the human experience.
The Vision of NSS is people living and working in thriving communities beyond the Earth, and the use of the vast resources of space for the dramatic betterment of humanity.
The Mission of NSS is to promote social, economic, technological, and political change in order to expand civilization beyond Earth, to settle space and to use the resulting resources to build a hopeful and prosperous future for humanity. Accordingly, we support steps toward this goal, including human spaceflight, commercial space development, space exploration, space applications, space resource utilization, robotic precursors, defense against asteroids, relevant science, and space settlement oriented education.
Website: http://NorthHoustonSpace.org
MeetUp: https://www.meetup.com/Future-North-Houston-National-Space-Society-Chapter/
FaceBook: https://www.facebook.com/NssNorthHoustonSpaceSociety/