Join us for our Monthly NSS North Houston Space Society (http://NorthHoustonSpace.org) meeting. Come join others who are excited about exploring the cosmos, learning how to use the resources of space to improve human life, and who want to go and spread humanity to the rest of the universe.
The meeting will be on Saturday, December 14, 2019 at Barbara Bush Library (6817 Cypresswood Dr.; Spring, TX 77379) at 2PM.
Our guest speaker will be Trent Martin, Vice President of Aerospace Services for Intuitive Machines. Intuitive Machines is one of 9 companies selected by NASA to deliver payloads to the surface of the moon as part of NASA's Commercial Lunar Payload Services (CLPS). Intuitive Machines is one of two companies are currently working under an active task order and plans to land their Nova-C Lunar Lander in 2021.
Trent Martin has a BS in Aerospace Engineering from the University of Texas in Austin and a MBA from the University of Houston in Clear Lake. He has served in a variety of positions at Lockheed Martin including as Structures Engineer, Project Manager, Contract Capture Manager. He has worked at NASA in many roles including Manufacturing Manager and Assistant Director for Advanced Development Projects.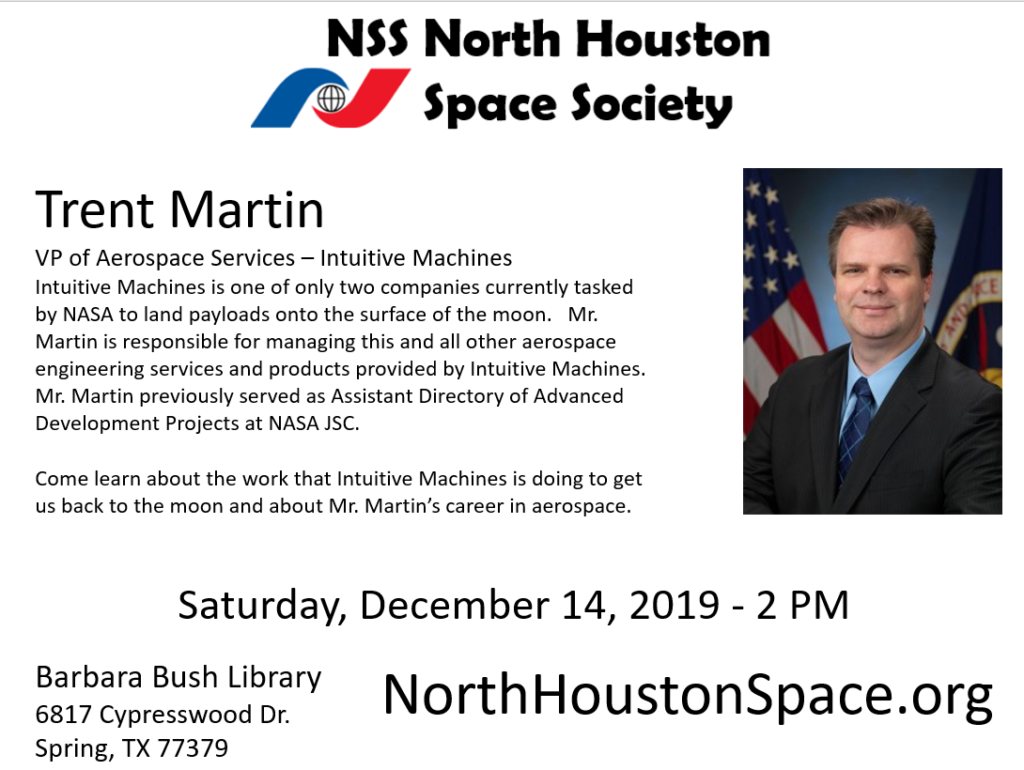 Meetings open to all age groups and interest levels. Come explore with us the potential that developing and exploring space has to better life here on earth and to open up new frontiers creating new perspectives that can help enrich the human experience.
The Vision of NSS is people living and working in thriving communities beyond the Earth, and the use of the vast resources of space for the dramatic betterment of humanity.
The Mission of NSS is to promote social, economic, technological, and political change in order to expand civilization beyond Earth, to settle space and to use the resulting resources to build a hopeful and prosperous future for humanity. Accordingly, we support steps toward this goal, including human spaceflight, commercial space development, space exploration, space applications, space resource utilization, robotic precursors, defense against asteroids, relevant science, and space settlement oriented education.
Website: http://NorthHoustonSpace.org
MeetUp: https://www.meetup.com/Future-North-Houston-National-Space-Society-Chapter/
FaceBook: https://www.facebook.com/NssNorthHoustonSpaceSociety/