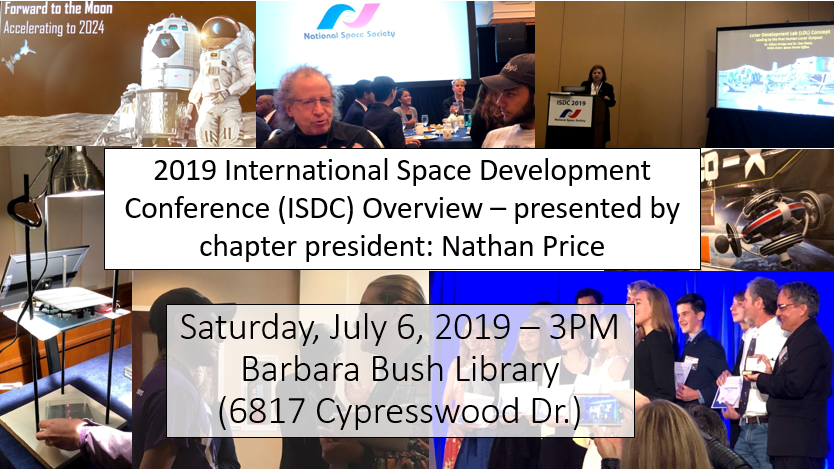 Every year the National Space Society (NSS) hosts the International Space Development Conference (ISDC). This conference brings together
scientists, engineers, entrepreneurs, students, artists and space enthusiasts for several days of engaging discussions, presentations, tours and social events that all focus on the events that are leading rapidly to permanent settlements in space. 
This year, it included many well known speakers including Jim Bridenstine (NASA Administrator), Eileen Collins (former NASA Astronaut), Tory Bruno (CEO of ULA), Jeffry Manber (CEO NanoRacks). It included student presentations from approximately 500 students from around the world. And sessions covering the Moon, NASA Innovative Advanced Concepts (NIAC), Bio-Requirements for Space Settlement, Mankind's Future on Mars, Space Settlement, Achieving Earth Independence, Interstellar, Space Elevators, Space Business, Space Solar Power, Living in Space, Space Transportation, LaunchPad Talks, and the Many Roads to Space.
This year three members of the NSS North Houston Space Society chapter was able to attend. Nathan Price will be giving an overview of what he learned. And encouraging all to attend next year which will be much closer…
Join us on Saturday, July 6, 2019 at 3PM at the Barbara Bush Library at 6817 CypressWood Dr.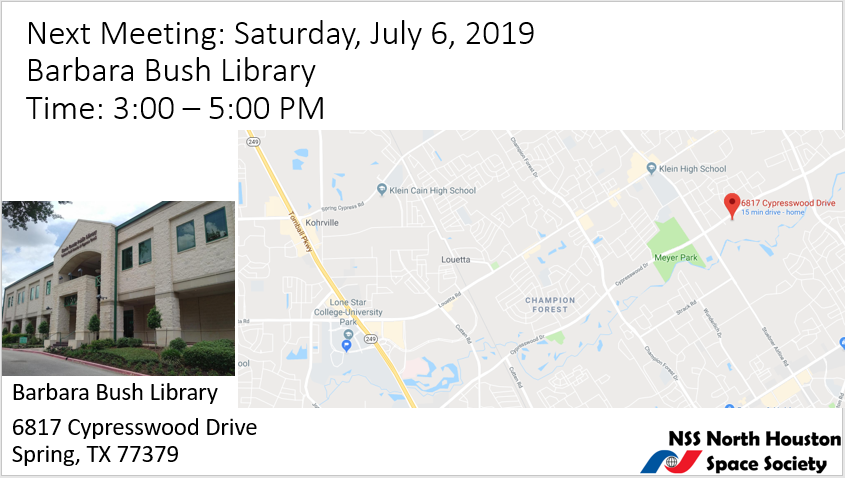 Website:  http://NorthHoustonSpace.org
MeetUp: https://www.meetup.com/Future-North-Houston-National-Space-Society-Chapter/
FaceBook: https://www.facebook.com/NssNorthHoustonSpaceSociety/